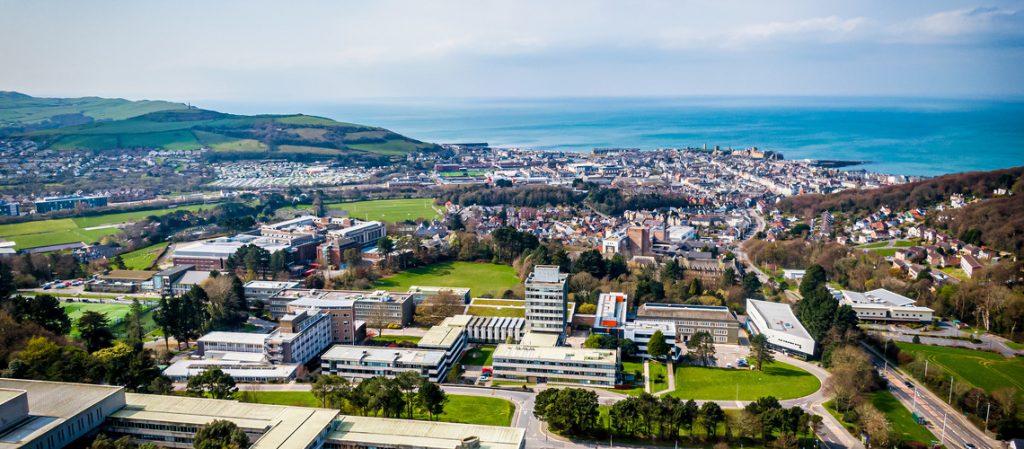 Aberystwyth University has entered the top 40 in The Times and The Sunday Times' Good University Guide 2022, reflecting its strengths in teaching excellence and student satisfaction.
The University ranks 38 out of 135 universities across the UK, an improvement upon last year's rank of 42. The ranking is based on a mixture of criteria, including satisfaction with teaching quality, the student experience and degree completion rates.
The news follows the University's strong performance in the National Student Survey (NSS) in July, where it scored the highest in Wales for both Teaching Excellence and Student Satisfaction.
Professor Elizabeth Treasure, Vice-Chancellor of Aberystwyth University, said: "It is fantastic news to see the strong progress of Aberystwyth University recognised by The Times and Sunday Times' Good University Guide 2022. This has been a difficult 18 months for both staff and students alike but our teaching staff has performed exceptionally amid these circumstances.
"We moved quickly to introduce innovative and flexible teaching methods when the pandemic first hit and prioritised the students' needs in our decision making. I was very proud to see them given a quality of teaching akin to that of when we were in more normal circumstances. Our performance in the Good University Guide 2022 shows us how keen staff were to never let the high standards we hold to drop at any time and I cannot thank them enough."
Professor Tim Woods, Pro Vice-Chancellor Learning, Teaching and Student Experience, said: "I am thrilled to see our achievements reflected in our improved position in The Times and Sunday Times' Good University Guide 2022. Aberystwyth University continues to excel for both its teaching excellence and high levels of student satisfaction, so it is no surprise to see us confirmed among the Top 40 Universities in the United Kingdom. This has been made possible through the hard work of our academic staff and they deserve a great deal of credit for our success.
"However, we are not resting on our laurels and are instead working hard to further improve the student experience. Our new Vet School opens later this month, which will be Wales's only School of Veterinary Science and follows a £1 million investment in new facilities at our Penglais Campus. We will also be offering nursing qualifications from September 2022, boosting the health service in mid-Wales and beyond.
Both these developments, in addition to the courses we already offer, demonstrate our enduring commitment to high quality education for the years ahead."
The Times and Sunday Times' Good University Guide 2022 is published today (17 September) online, with a 96-page supplement to follow on Sunday, 19 September.
---
Contacts
Graeme Neill
Communications and Public Affairs
Aberystwyth University
grn1@aber.ac.uk