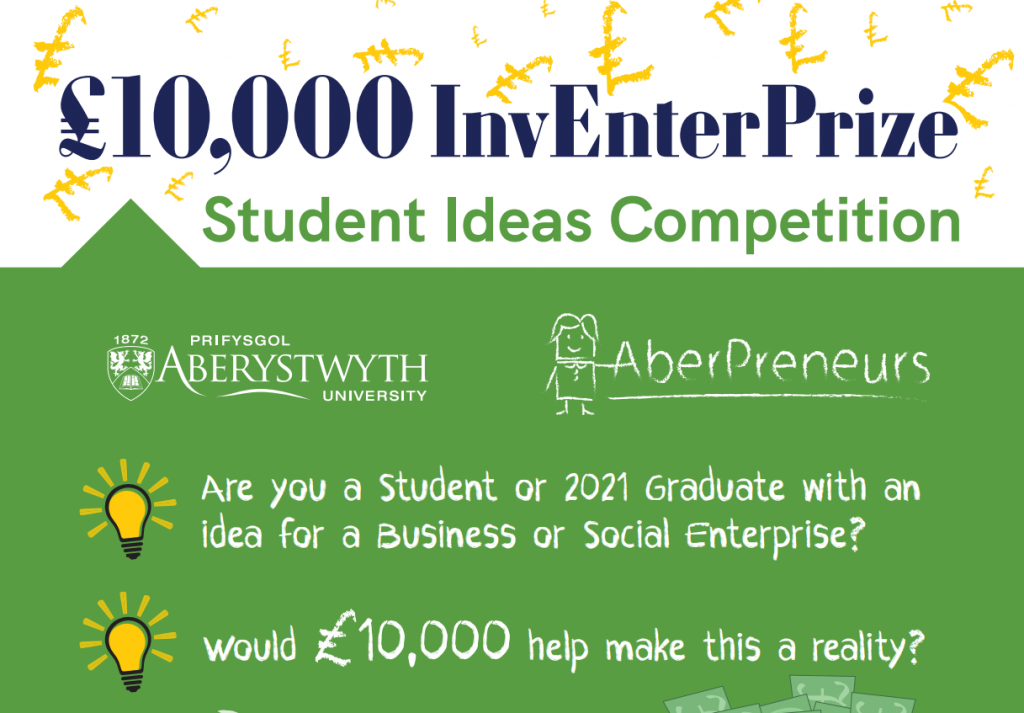 InvEnterPrize 2022 has launched, giving entrepreneurial students the chance to battle it out to win £10,000 investment in their business idea.
The annual competition provides an unrivalled opportunity for Aberystwyth University students and recent graduates with good ideas for a new business or social enterprise to make their dreams a reality.
Prizes are awarded to the best, most innovative ideas with the greatest commercial and social potential.
The main prize of £10,000, funded by alumni donations to the Aber Fund, can be invested in equipment, facilities or professional services to get the winner's business start-up off the ground.
Other prizes are: one year associate membership at Aberystwyth Innovation & Enterprise Campus (for proposals for businesses aimed at supporting the bioscience, life science or agriculture sectors), £3,000 from Engineers in Business (for proposals from Computer Science, Maths and Physics), and £500 for the best rural business (from the University's Growth, Rural Resilience and Innovation Network [GRRaIN] project).
As the students and student teams work on developing their final business plans, they will be able to gain valuable expert advice and hone their business skills through a series of online webinars from successful entrepreneurs; covering vital competencies such as market research, branding, finance, and protecting intellectual property. They will also be able to access free one-to-one start-up mentoring from Big Ideas Wales.
The competition, which closes on 7 February 2022, culminates in shortlisted finalists being invited to pitch their business propositions to a panel of judges (comprising successful Aberystwyth University alumni) in a Dragon's Den style event.
This year's entrants will be hoping to follow in the footsteps of InvEnterPrize 2021 winner Karl Swanepoel, whose new business start-up Revolancer is going from strength to strength.
Karl's idea for a marketplace that connects skilled freelancers with ambitious businesses in need of digital know-how, has already successfully attracted further investment funding, and Karl was recently a finalist in the Engineers in Business Champion of Champions contest.
Karl, who was a special guest at the InvEnterPrize launch event, said:
"I had always wanted to be my own boss, and when I was in my final year at the University and heard about InvEnterPrize, I knew it was an incredible opportunity to further develop my business skills. Winning the competition was amazing, and the funding allowed me to kickstart my venture, Revolancer. My advice to people thinking of entering this year's competition is to make the most of every opportunity to ask for help from mentors and experienced business people, and use their advice to develop a stronger business model and improve your pitch."
Organiser of the annual competition, the University's Enterprise Manager Tony Orme said: "InvEnterPrize is an exciting opportunity for our entrepreneurially-minded students and those who graduated this summer to be in with a chance of winning seed funding to help to launch and develop their new business venture.
"The University's Careers Service supports students, graduates and staff to realise their aspirations and achieve their potential, including the provision of practical help for innovation enterprise and business start-up through a busy programme of 'Aberpreneur' events."
---
Contacts
Tony Orme, Careers Service, Aberystwyth University
awo@aber.ac.uk
Alice Earp, Communications and Public Affairs, Aberystwyth University
ale@aber.ac.uk
Links
Aberystwyth University Careers Service
Aberystwyth Innovation & Enterprise Campus