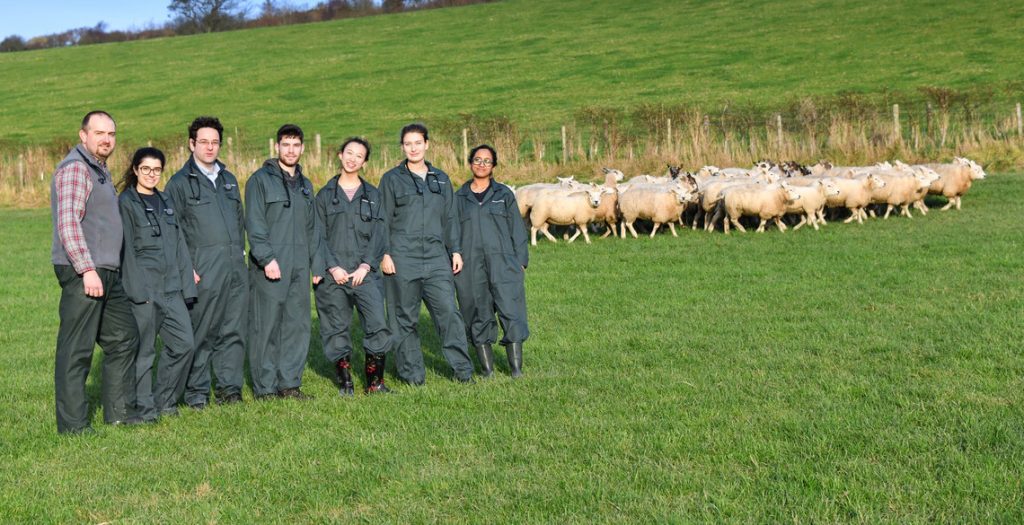 Wales' first School of Veterinary Science opens its doors to students for the first time today (Monday 20 September) at Aberystwyth University.
The students will study for a Bachelor of Veterinary Science (BVSc) degree, delivered jointly by Aberystwyth University and the Royal Veterinary College (RVC).
The five-year degree sees students spend two years at Aberystwyth University followed by three years' study at the RVC's Hawkshead Campus in Hertfordshire.
The programme covers the full range of animals, from domestic pets to farm animals, in common with all other veterinary programmes.
The course also provides opportunities for students to study specific areas of veterinary science through the medium of Welsh.
The students will benefit from a £1 million investment in newly completed teaching facilities on the University's Penglais campus, which includes brand new anatomy and study facilities.
The facilities were funded from a combination of alumni donations and the University's own funds.
Professor Darrell Abernethy, Head of Aberystwyth University's School of Veterinary Science said:
"Today is an important and exciting new chapter in the history of Aberystwyth University and Wales. I would like to thank everyone who has played a part in this success – the efforts and support of very many people and organisations have led us to this significant day.
"After so much hard work by staff at both Aberystwyth University and the Royal Veterinary College in preparing for the start of the course, it's a great feeling for us all to see our first students arrive. They will benefit enormously from the skills of the new staff team and the significant investment in these new facilities."
Professor Elizabeth Treasure, Vice-Chancellor of Aberystwyth University said:
"This is a day of great celebration and optimism here in Aberystwyth. Agriculture and its related industries play such an important part in the Welsh economy and it is incumbent on us as universities to provide the people and skills that will contribute to ensuring they thrive for years to come. The School of Veterinary Science adds a vitally important new piece to the jigsaw, one that will build resilience in the rural economy through education and research at a time of great potential change and challenges."
"Our students will enjoy the best of two worlds at universities that offer academic excellence and an enviable reputation for student experience, and I thank everyone who has contributed to finally realising the vision of a school of veterinary science for Wales."
Professor Stuart Reid CBE, Principal of the Royal Veterinary College added:
"We are delighted to see this exciting initiative come to fruition and join with our colleagues in welcoming the new students to Aberystwyth. We look forward to offering them an equally warm welcome when they arrive at the RVC in two years' time for the second part of our new joint veterinary degree."
Welsh Government Minister for Rural Affairs, Lesley Griffiths said:
"It is great news Wales' first School of Veterinary Science at Aberystwyth University opens its doors today.
"I recently visited Aberystwyth University and was very impressed with the fantastic facilities which will be on offer to students.
"I wish everyone at this new School, both staff and students, the very best now and for the future and look forward to seeing the important role it will play in benefitting our agriculture sector and veterinary profession."
Chief Veterinary Officer for Wales, Christianne Glossop said:
"This is a great day for the University of Aberystwyth, for the veterinary profession, and for animal health and welfare in Wales.
"This hub of veterinary education, research and excellence presents a great opportunity for students from Wales and beyond to study in facilities designed to help them reach their full potential and excel."
The new School builds on over 100 years of animal health teaching and research at Aberystwyth University, and more recently, the successful introduction of a BSc Veterinary Biosciences degree in September 2015.
As well as the new Vet School facilities on the University's Penglais campus, the students will also study in the excellent existing laboratory facilities enjoyed by IBERS students and gain valuable experience on the University's dairy and sheep farms, and at the Lluest Equine Centre.
---
Contacts
Colin Nosworthy
Communications and Public Affairs
Aberystwyth University
ctn1@aber.ac.uk / 07496 914301
Links